Caribbean DancerSize®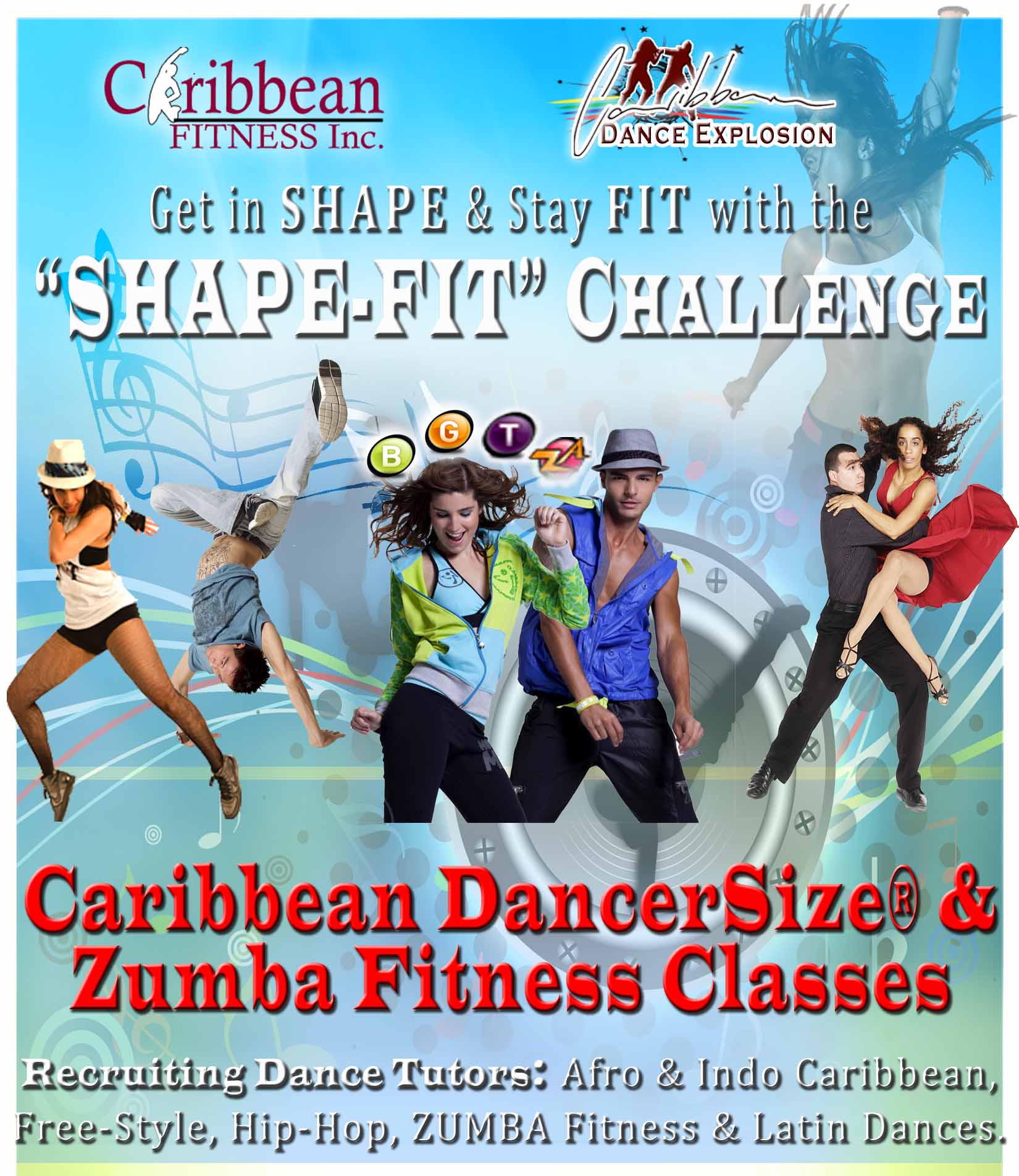 incorporates aerobic interval training with Caribbean influenced Music, Rhythms and dance movements that are moderately easy to learn because the instructors teach the basic routines.
Caribbean DancerSize® was designed to have fun and uses a variety of styles in its routines, including soca, hip-hop,  reggae, Afro & Indo-Caribbean rhythms, salsa, merengue, cha-cha, cumbia, reggaeton, mambo, rumba, belly dancing, flamenco, soca and African rhythms.  Music selections include both fast and slow rhythms to help tone and sculpt the body.
Because it feels more like dancing than exercising, Caribbean DancerSize® is growing in popularity and geographic reach. "Don't worry if you don't get all the steps right away. The idea is to have fun.
When do the classes start & how long is the class?
Our Caribbean DancerSize incorporate several dance programmes and themes including Dance Aerobics, Latin, Hip-Hop & ZUMBA Fitness® Classes and are conducted on specific program schedules with our clients. Request or Select a Program Schedule in our Request A Class Page and get started. Classes are generally 1 (one) hour in duration.
You can wear sweat pants, shorts, tank tops, t-shirts, anything comfortable, and a good sports bra. As for shoes, wear athletic shoes that give you support. I recommend light shoes such as running shoes or cross-trainers. Also, bring at least two bottles of water.
The instructor will lead the class in easy, simple movements that are combinations of dance and fitness. The students just follow along; usually just visual cues are given so that the class can listen to the music and immerse into the feel of the music.
What if I'm not coordinated and I can't dance!
Caribbean DancerSize uses our Caribbean dance rhythms, music and choreographed repetition of steps from class to class. Be patient and try it out a few times. After a few classes you will know the basic steps to soca, hip-hop,  reggae, Afro & Indo-Caribbean rhythms, salsa, merengue, cha-cha and all the rest. Most of all just have fun!
What if I'm out of shape and I can't keep up?
Many students start out at lower fitness levels either from injury or lack of exercise. They do whatever they can do during the class and then gradually add more. Most of the moves are low impact and the ones that aren't can be done that way.
What kind of people are in your Caribbean DancerSize classes?
People of all fitness abilities, ages, sizes and nationalities take Caribbean DancerSize classes.
How will Caribbean DancerSize benefit me?
Caribbean DancerSize is a total package: mind, body and spirit! Physically you will burn calories, mentally you will relieve stress, spiritually you will feel joy, forget your worries. Not to mention you will make new friends and you will learn how to dance.